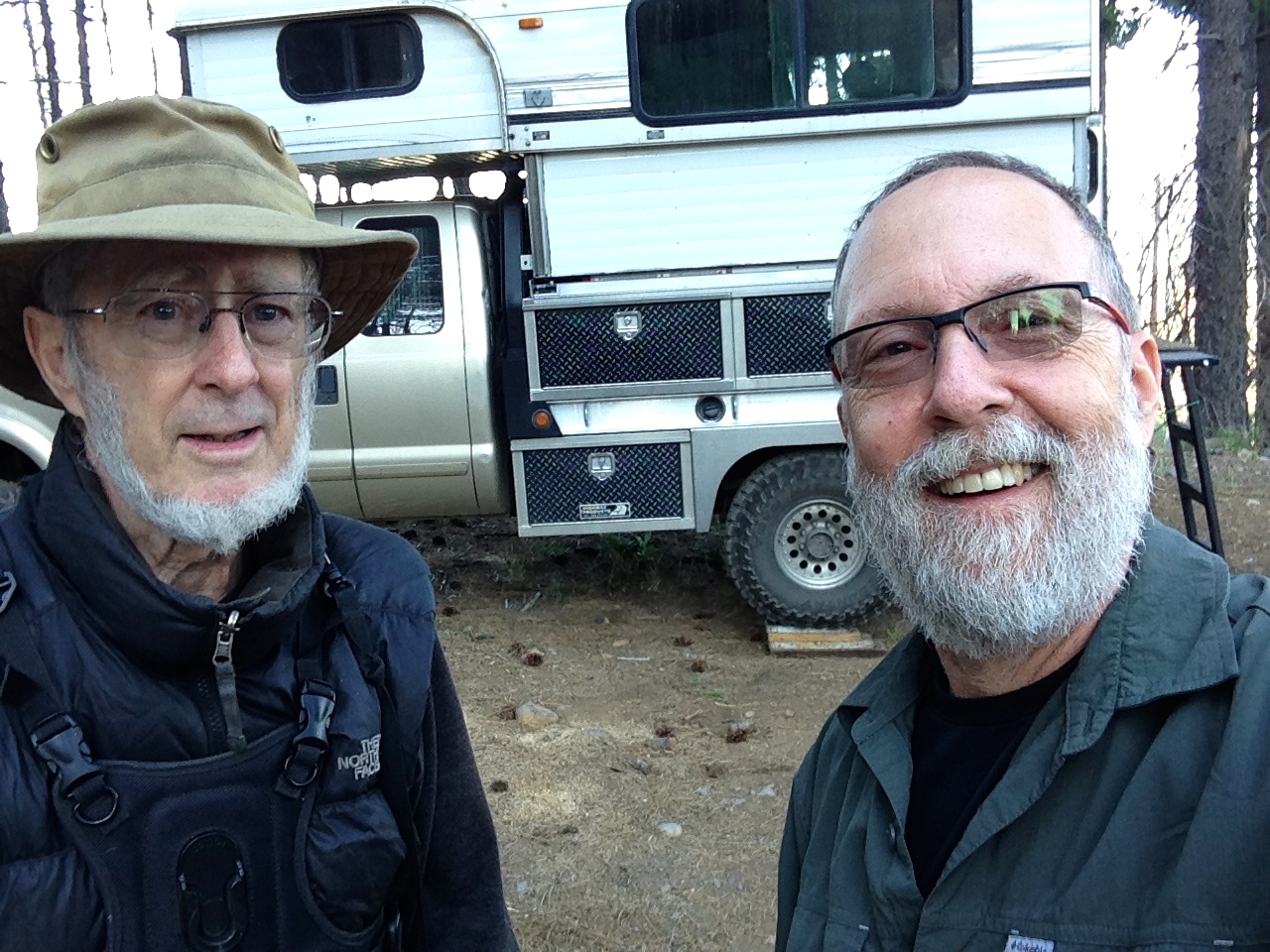 As I was driving down a gravel forest service road from the trailhead to Wasco Lake, I noticed a Ford pickup with a customized utility box supporting an Alaskan camper (a rare, hard-sided pop-up truck camper). I considered buying one, but opted for a fifth wheel. I just had to stop and acquire about it. Then I noticed a man standing to the side of the road toting a camera with an extremely large lens. As I pulled up beside him, I could hear and see a small audio speaker dangling from his waist and attached to his iPhone in hand. He was playing an audio recording of some kind of bird call. I soon found out on the front end of our conversation that the bird call was that of the rare Rusty Flycatcher.
Meet my new friend John Armitage. What a colorful and interesting man. John is 79 years old and has been living on the road in his Alaskan camper and Ford diesel pickup for the last 13 years. He's basically a birdwatcher and photographer . . . just for the fun of it. His story doesn't stop here. Back up for a moment. His former employer, IBM, "forced" John into early retirement at the age of 54. So, what's a guy to do with that? How about sailing around the world?
That's what John did, or started out to do. But when his boat sailed as far as Norway, he decided to stay for a while . . . twelve years of a while. But as the winters grew longer, he decided to return to the states where he turned his boat into a truck and camper. He's only driven to the Arctic ocean twice since then. Nothing to distant or remote.
I suppose our little chat went on for two hours. I got a fully-guided tour of his small but well equipped Alaskan camper. I'm very interested in learning more about boon-docking, dispersed camping . . . ways to stay on public lands, you know, "This land is your land, this land is my land." John is a bevy of knowledge and experience when it comes to living and camping on the road. He said he might only spend $50 a year on camp fees. Wow, believe it or not, you can spend close to that for one night at a full service private RV park. But in order to take advantage of boon-docking on public lands, you have to be willing and able to be more self-sufficient when it comes to things like power and water. Additionally, you might have to stay in more remote areas.
John prefers it that way. The remoter, the better. Because that's where he finds a piece of peace. And it's where he finds the wonderful images of birds and nature that he captures so beautifully through photography.
He said I could invite you to his website where you can download slideshows of his photographs. Go to John's Nature Photography at http://john-armitage.com
I wonder why it takes going to a remote area (at least for some people), far removed from the masses and the common lure of life, to discover something very close and personal?
Think about it. Traveling to the remotest places . . . to the "uttermost" places. Such a journey ultimately leads to the innermost places within our being, into our bone and marrow, our soul and spirit.
Thanks, John. You inspire me.